A Christmas Story
This post was originally put together for a writing competition. It is partly true and partly made up. I did spend Christmas with my family in Vienna 2 years ago, and it was fabulous. It was definitely cold. I did see a young girl begging for money on the sidewalk. I did give her some, but I did not stop and ask her story. I did not care more than spare change. To me, it now serves as a reminder of how much better the story is when we stop and listen.
It was Christmas morning, and it was supposed to be a time to open presents and hand out hugs and remember all of the good things in life. And I was going through the routine. My hands were untying ribbons and ripping open wrapping paper. But my my heart was somewhere else.
No matter how hard I tried, I couldn't forget her. I couldn't get her piercing, beautiful, sad blue eyes out of my mind.
I do not recall what drew my gaze towards the small figure whose existence meant nothing to me. But the second my eyes met hers, I was ruined. I knew I would never be the same. I didn't mean to see her, and since that cold day, I often wished I hadn't. I certainly wasn't looking. My mind was set on other things.  I was in another world, completely out of touch with reality. One in which all of the items placed in the store windows that I was passing by could actually satisfy the deepest desires of my heart.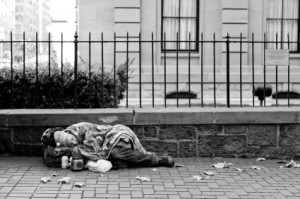 Work had taken me and my family to Vienna for the holidays. The city was beautiful. Rooftops covered with snow. The streets lined with the decorations of the season. Glass chandeliers hung out over the sidewalks sparkling with light. Larger than life ornaments, glistening with a red glow, draped overhead.
It had been three days since her telling glance had melted my frozen heart. We were headed towards an outdoor Christmas market, filled with anticipation, imagining the warmth that would crawl down our throats, filling our stomachs, as we sipped on mulled wine. I could already taste the hot waffle covered in hazelnut spread while standing in a crowd, unable to understand the garbled German surrounding me, but content to be filled with the spirit of the holiday season.
And that is when I saw her, hidden in the busyness of the pedestrians walking from one store to the next. She was curled up against the wall sitting on the sidewalk, the dirt that covered her clothes matching the dust of the street.
She kept her face down, nestled between her legs. Partly out of a futile attempt to stay warm, but also out of a desire to hide her shame. The shame of hunger. The shame of cold. The shame of an addiction made necessary by the loneliness of living on the streets.
But then she looked up, and our eyes met. And I was ruined. In a split second, her eyes told me a story. A story of love. Not princesses and fairy tale love, but a love that took everything from her.
When I first noticed her crumpled body with it's dirty hand holding an empty cup, begging for money, I hated her. I hated her irresponsibility and her laziness. I despised the filth that covered her entire body. I hated that she smelled like a dead animal left to rot.
I hated her because I assumed many things about her. I assumed that being on the streets was her choice. If only she had made better decisions, if only she had chosen to stay in school, then maybe she wouldn't need my money. Money that I had worked hard to earn.
When her eyes stared into mine, I suddenly realized that there was much more to this girl's story than I could tell by looking at her clothing. It was much deeper and much sadder than the filth that covered her body let on.
This life I so disdained, was not her choice. It had not been her plan. Difficult circumstances complicated by even tougher decisions had brought her here, to this cold, lonely place on the sidewalk
She had chosen to do what she felt was right, despite the consequences. Despite the fact that her family disowned her. Despite the fact that all of her friends had abandoned her. Despite the fact that the church, which she felt so committed to in her heart, had rejected her.
The unplanned, teenage pregnancy came. It had been a complete surprise. The boy said he loved her. He promised to stay forever. All lies. Lies revealed by a harsh reality of an unwanted pregnancy.
This story was originally produced as part of a writing contest. It is part true, and part made up. I did spend Christmas in Vienna one year, which was fabulous. I did see a young girl begging for money on the sidewalk. I did stop to give her 2 Euros, but I did not stop and ask her story. I did not take the time to listen or to care beyond spare change. What a difference the story becomes when we stop and listen.
Everyone told her to consider her options. You are too young. This is too hard. Move on. This child is unwanted. This boy is illegitimate.
But the thought of ending the life that was hidden deep within her was something she could not do. The small baby, forming in her womb, had become a part of who she was. She realized that there was more than just a physical connection. To end the pregnancy would mean destroying a part of her own soul.
So she finished the long 9 months. The boy was born. And then she gave him to another woman. To raise him. To feed him. To clean his dirty diaper. To teach him about the ways of the world. To be his mother.
As I sat in our warm apartment, drinking coffee and opening presents. I realized that this young girl knew more about Christmas than I ever had. As we celebrated the birth of  the Messiah, the one who died so that I might have life, I understood that she had given up everything so that she could give life to her son.
I can only guess the look on everyone's faces when I abruptly stood up, grabbed my coat, and left to go find her.