The Hardest Part is Getting Started
Now that the last mission has been flown, I regret not having watched, or should I say have felt, a space shuttle launch.
It must be just like seeing the grand canyon. Words are unable to adequately describe it. The only way to understand is to experience it.
The loud, deep rumble as the boosters first ignite. The vibrations felt as the shuttle seems to push down on the earth with its unmatched thrust. The mystery of watching tons of steel make its way up into the heavens, and then disappear from sight.
Have you ever thought about how much fuel it takes to get it off the ground?
The solid rocket boosters, the two white rockets on the side, contain 83% of the fuel needed for a mission. Once they are emptied, they are jettisoned and fall back to the earth, which takes 124 seconds exactly.
A 10 day mission uses 83% of the fuel in the first 2 minutes.
Empty the space shuttle weights 165,000 pounds. When the boosters are filled with the necessary propellants it weighs 4,400,000 pounds.
By weight, 96% of the space shuttle is there to get it off the ground.
The greatest resistance, which requires the greatest amount of energy to overcome, is met at the time of launch.
Want to go to space? The hardest part will be getting started.
(Solid Rocket Booster and Space Shuttle information provided by Wikipedia.)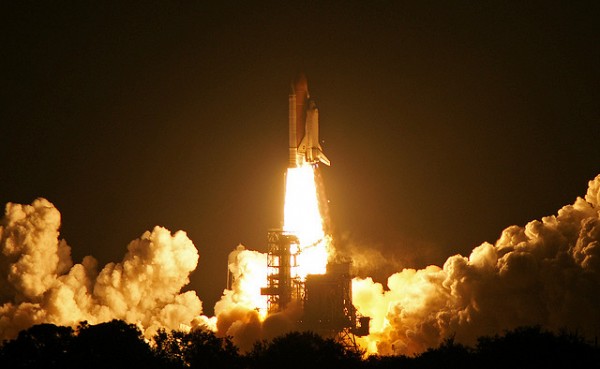 Photo by Matthew Simantov (Creative Commons)
You and I are no different.
We know of projects we want to start. Habits that we want to add to our lives to make them better. We have ideas that we want to develop into something bigger.
The new exercise regimen.
The book you want to read.
The book you want to write.
The family project that would not only be a good thing to do, but would help with family togetherness.
The tree house in the backyard that needs to be built.
The education you want to pursue.
The significant other you want to love better.
That new business that might bring a sense of purpose and freedom.
But we sit on the launch pad. Waiting.
Because the hardest part of doing something worth doing is getting started.
What do you want to do, but struggle with getting started?
What has helped you the most to take that first step? Share in the comments.