Life After Art: 3 Reasons to Be Creative
Book Giveaway:
 I am giving away 5 free copies of
Life After Art
by
Matt Appling
. To be eligible, see entry conditions at the bottom of this article.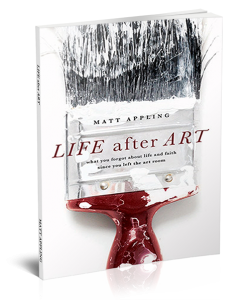 I am the student Matt Appling describes in his new book Life after Art.
In kindergarten, my imagination had no limits. I would color and draw. I would play and imagine. I could do anything. I could be anything.
But then as I grew older I began to question the value of creating. I stopped seeing life as something beautiful to experience and started living a formula. I settled for good enough.
It wasn't until recent years that I discovered I was wrong. After reading his book, I agree with Appling, we all need to get back to the art classroom.
Why You Stopped Creating
When you were a child you made stuff. You didn't stop to ask what the point was. You didn't worry about whether or not anyone would like it. You colored and drew and painted. And then you shared what you made with those you love.
You lived life in wonder.
You lived life without fear and worry.
You were born an artist.
You were made to create.
And then something changed.
One day, you stopped looking outward. You stopped doing for others, and started looking inward. As Appling witnesses in his students, we stopped creating when we became self-conscious. When we became aware of what we perceived others to be thinking about us.
You started asking different questions.
Does that person like me?
Will they like what I made?
Will they be my friend or will they make fun of me?
Are You Creative?
Most imagine creativity as something you either are or are not. Or typically something other people are. It is a magic property or skill that you either have or don't.
Creativity isn't an adjective. It is a verb. It isn't something you are, but something you choose to do.
Creating teaches you a better way to live life. A better way to purpose your purpose. The same principles that apply in the primary school art room can help you to live a better story.
3 Reasons you Should be Creative
1. To Create Something Beautiful
The world is full of ugly. And we are the ones who make it that way. We pollute. We fight. We argue. We hurt. We destroy. We consume. We litter. We discriminate.
But when we are creative, we make something beautiful. We add to what is good in the world. Whether it is friendships or helping others or good music, all creativity points away from ugly and towards beautiful.
2. To Create Something Timeless
Most of are lives are filled with the disposable. They are full of junk that we end up throwing away. The disposable is a quick and easy means to get something we want. .A feeling. An object. A desire.
But when we create art, we are making something that is timeless. It will last. It will have a positive influence on others. It will mean something beyond our own lives. It will touch those we never meet. It will exist beyond our own lives.
3. To Share with the World
When you were 5 years old and you drew something, you always shared it. You showed your teacher. You showed your parents. You showed every person you could. You took it home and hung it on the refrigerator or in your room. You wanted everyone to see and experience it. Not out of a desire to persuade. You simply wanted to share your joy.
When we create are we do the same. We share. We give. We long to see the joy we feel in the face of another.
Are you creative? What do you make that is beautiful? 
You can leave a comment by clicking here.
For those of you who purchase the book yourself, Matt wants to say thank you by giving you free stuff. To learn how you can get a free copy of the deluxe Life After Art eBook, the Life After Art Field Guide, and The Art of Storytelling for free, click here.

Book Giveaway:
I will be randomly selecting
5 winners
to receive a free copy of 
Life After Art
by
Matt Appling
. To be eligible all I ask you to do is to leave a
comment
below.
And
two share this article on
Facebook
and
Twitter
. (I've made it easy, just click on the 2 links.) Be sure to include my name so I will notice. On Facebook "Jeremy Statton" and on Twitter @JeremyStatton. I will select the winners Wednesday April 3 at 5pm. Entires after that time will not be eligible.