The Story of the "Little Free Library" Movement
This is a guest post by Lisa Colón DeLay. She is a writer, artist, avid reader, storyteller, and spiritual director to creators and communicators. She holds a Master of Arts in Religion with a concentration in Spiritual Formation. She offers guidance, inspiration, and various resources at her website lisadelay.com. You can also follow her on Twitter.
Sometimes the best stories involve simple surprises.
Beginnings
In 2009 Todd Bol created an oversized mailbox that looked like a one room schoolhouse. Inside he placed books–free for the taking–and mounted it onto his lawn in memory of his mother–a book-lover and school teacher.
People noticed. This was the beginning of an amazing story.
After Todd shared his idea with friend Rick Brooks, connections formed and the news spread. The story grew legs. Since then ordinary people in over 40 states and 20 countries created several thousand Little Free Libraries.
Like a virus, Todd's simple concept of "Take a Book, Return a Book" enchanted artists, bibliophiles, star athletes, celebrities, and civic groups to fashion unique and charming little book dispensaries for interested readers.
Through the care and love given by the owner each installation is a treasure.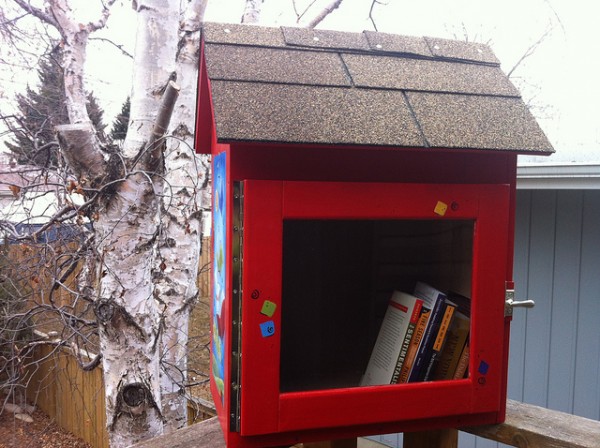 Photo by 3 Things for Calgary (Creative Commons)
Individuals or groups construct their own box by using their own know-how, plans posted online, or they buy one from the Little Free Library website. There they can also register their location. Visitors can find each Little Free Library with the GPS coordinates listed.
The Story Grows
Todd dreams that one day a person can travel just about anywhere and benefit from the small-scale book exchange and the common goodness of sharing.
As a non profit, Little Free Library has a threefold mission:
To promote literacy and the love of reading by building free book exchanges worldwide.
To build a sense of community as we share skills, creativity, and wisdom across generations.
To build more than 2,510 libraries around the world–more than Andrew Carnegie.
They are on track to achieve the last goal in July 2012.
Todd Bol doesn't take credit for starting goodness through generosity, and creating a bona fide movement where individuals share what they enjoy with others.
He claims that this amazing story, this goodwill phenomenon is just a "natural extension of [the human] soul".
People instinctively sense the presence of a little piece of something wonderful. The goodwill brings joy in a simple but powerful way. It transforms. Todd's says, "I'm only a spokesperson for this. The voice has always been there."
The Story Inside
A story lies inside each one of us waiting to come out. Sometimes it only takes a little inspiration to pop it to the surface. An artistic creation or a loving gesture may be the best sort of catalyst.
When our stories combine with generosity and goodwill out springs something brilliant, maybe even something transcendent.
And it's contagious. It's the best way we can tell better stories.
When we include these lasting elements we create not only a powerful story but a lasting legacy that inspires hope too.
Have you ever used a Little Free Library? Have you ever experienced generosity and goodwill in such a transforming way?
Share in the comments.