Why Not Me?
Several months ago I told you about the Generosity Manifesto. The eBook is part story and part game changer.
Now is the time to put the words into practice.
The author of the book, Mike Zserdin, wants you to experience the joy of being generous. He and his friends have have developed a means to make it easier for you to share with others, both your money and your passion. They start by asking you to ask a question of yourself.
Why Not Me?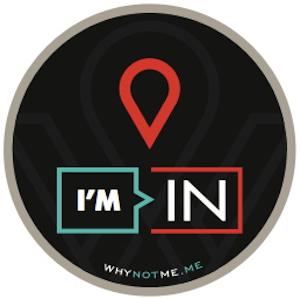 Why It Hasn't Been You
There is only one reason you haven't made a difference in the world. You haven't decided to.
For most of us, it isn't that we don't want to make a difference, we just haven't take that extra step needed to make a difference. This not-taking-the-step just happens. It isn't intentional. We are all busy. And sometimes we don't know where to get started.
Maybe we dream of big things and ignore the importance of small things. Maybe we plan on doing something about the problems we see, but never seem to get around to it. Maybe we want to be generous but we don't know where to give.
Today, you can take that first step.
How It Can Be You
WhyNotMe.me asks this question of you because they believe it can be you. And they believe it can be you for only $10/month.
Why ask people to give such a small amount of money?
One, even such a small amount matters. Don't forget the Importance of Small Things.
Second, they want you to kickstart your own generosity because they believe you will love it.
And third, they believe that when you are generous and loving it, you will invite others to be generous.
It isn't about the amount of money. It is about being generous. It is about doing something good for others. It is about giving what we have to those who need.
Generosity, like the flu, is contagious. We want you to get it. We want your symptoms to be severe. And we want you sneezing all over everyone you know.
You're Invited to Join Me
I'm in.
And I'm asking you to consider joining me in giving a new gift to something you believe in? By giving together, we can make things better.
Go to WhyNotMe.me and sign up. Mention that I invited you. Search for the organization of your choice. Invite your friends to join as well. And you're done.
The $10 per month doesn't go to WhyNotMe.me, it goes to the group you choose. When you sign up have an organization in mind that you want to give to. Type in that group's name and WhyNotMe.me takes care of the rest.
I chose Half the Sky Foundation. They are an organization that helps children in orphanages in China get the love and attention they need. My four year old adopted daughter was a recipient of their work and what they do matters to me.
They gave to my little girl and now I'm giving back so somebody else's little girl can benefit.
I'm not asking you to give to my thing. Choose something that matters to you. However, If you need suggestions, here are a few organizations I have given money to in the past and I believe in their work.
Have you ever asked yourself "Why not me?"
You can leave a comment by clicking here.
(More important than commenting, though, is giving. If you only click one link today, go check out WhyNotMe.me.)